Cake Insure
Modern Workers' Comp Insurance for Small Businesses in 5 Minutes or less.
Click to View
Company: Cake Insure (subsidiary of Pinnacol Assurance)
Project Goal: Modern Workers' Comp Insurance for Small Businesses in 5 Minutes or less
Background: The insurance industry as a whole is 10-15 years behind today's expectations in user experience, Workers' Comp is no exception. Historically it has taken Pinnacol Assurance (the state fund for workers' comp in Colorado) 3-5 days to get a simple quote out to small business owners in CO, and twice that for coverage to take effect. In the meantime many small businesses are prevented from hiring employees until coverage takes effect, or are non-compliant with the state by having employees working for them without WC coverage. The Cake team was tasked with improving the time to quote and buy process for workers' comp down to next-day coverage.
My Role: I worked as the sole UX/UI resource for the Cake team for the first 2 years of its life, collaborating with product management, development, data science, and customer success teams to ensure our design decisions supported business and customer needs.
- June 2017 - February 2019
User Research and Pain Point Identification, Problem Space Familiarization: To start designing an easier way to quote and purchase workers' comp insurance we started by doing market research, user interviews, and leveraging the years or insurance knowledge available to us from our parent company.
I was very unfamiliar with the problem space of insurance coming into this project, and participated in a certification course for property & casualty insurance producers to quickly ramp up my knowledge on the subject (I am a licensed insurance agent for property & casualty lines now).
New Process Definition: Representatives and subject matter experts from each department at Cake came together to figure out what info we could get on our own, and what to ask for from all customers, some customers, or drop all together.
User Testing & Content Testing: A number of focus groups and surveys had been completed by the product management team prior to me starting at Cake, but I was involved in all user interviews from the time I was hired onward and ran the first user tests with target customers to validate the best flow and format for the quoting tool. I tested 3 prototypes with varying approaches to the UI, and one stood out as the quickest and easiest for users to get through. We did uncover some issues with users being able to understand the question wording and some content around the actual coverages that our policy provided, which we content tested and iterated on to improve over time.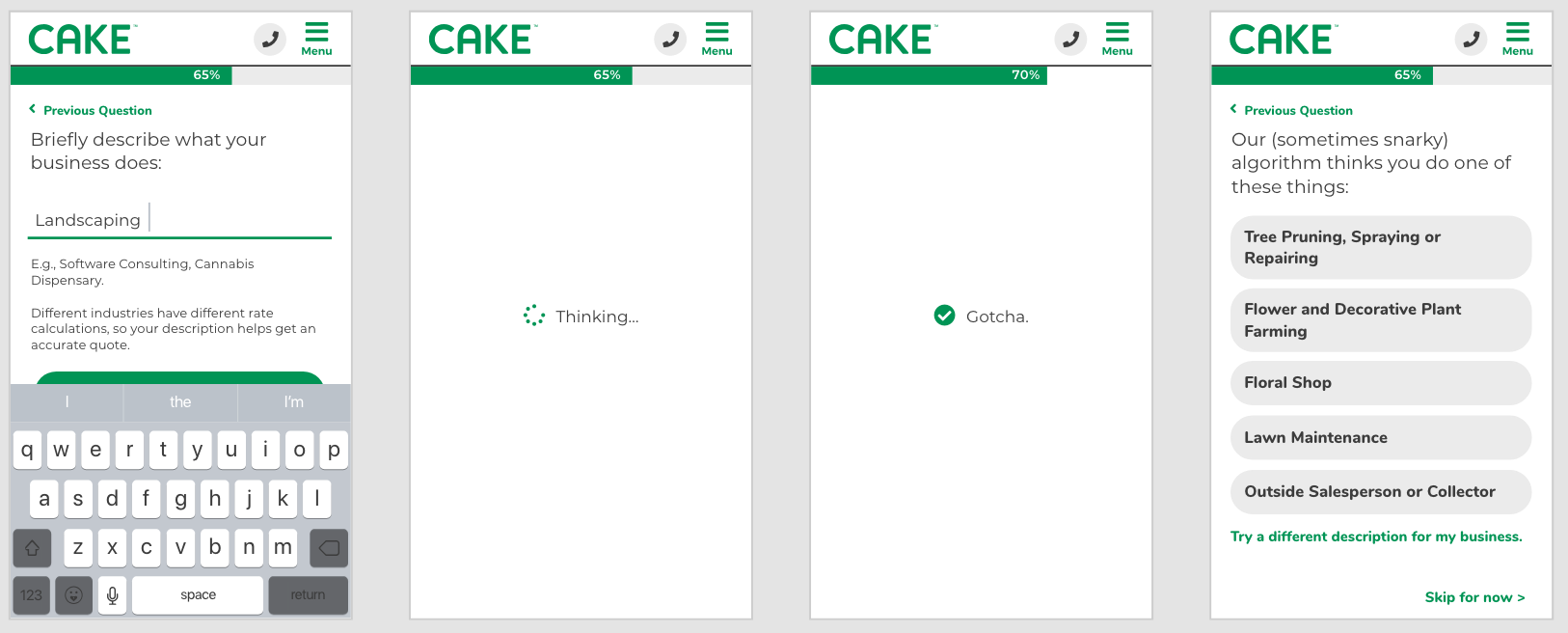 Some of the things I'm most proud of:
1. UX Writing - this project was my first real opportunity to test my skills in UX writing, and I loved every opportunity to sneak in some spunky commentary while still testing that the text conveyed exactly what the user needed to know.
2. Cannabis Dispensaries - shortly after Cake's initial release there was an influx of calls coming in from cannabis dispensaries asking if they could get coverage with Cake and many policies that couldn't be quoted online because the dispensary did not feel comfortable entering their type of business into our application. After a lengthy ideation session with many potentially viable and high effort fixes, I suggested that it might be as simple as putting 'cannabis dispensary' as an example under the question. We tried this low cost, quick fix ahead of spending effort on a more robust solution and never heard about issues with cannabis dispensaries getting policies again!
Outcome: This project successfully enabled thousands of small businesses in Colorado to obtain workers' comp insurance quotes on mobile or desktop in under 5 minutes, with coverage effective the next day after purchase. Customer feedback was very positive with an NPS holding steady at about about 73 for the initial launch, and increased to 89 when Cake launched the redesigned version of the quote app in June 2019.